Youngblood's assistant is a skeleton-like shapeshifter ghost who often accompanies Youngblood. His real name is unknown.
History
Youngblood's assistant has always been seen beside Youngblood, accompanying him in whatever animal form best suits Youngblood's costume. For example, he was a parrot when Youngblood was a pirate in "Pirate Radio," and he was a horse when Youngblood was a cowboy in "The Fenton Menace." He was absent when Youngblood was an astronaut in "Livin' Large."
Personality
He is often annoyed by Youngblood. He has the habit of correcting Youngblood when he says words incorrectly, informing him that his word choice is inappropriate for his current character, or reminding him of words that he forgets.
Powers and abilities
Sightings
Season 2
Gallery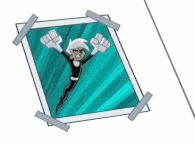 Click here to view the gallery.
Ad blocker interference detected!
Wikia is a free-to-use site that makes money from advertising. We have a modified experience for viewers using ad blockers

Wikia is not accessible if you've made further modifications. Remove the custom ad blocker rule(s) and the page will load as expected.