The unnamed eyeball ghost is a resident of the Ghost Zone.
History
In "13," he is seen waiting in line to leave through the Fenton Portal that Jack keeps opening up with the genetic lock.
In "Reign Storm," the eyeball ghost is seen in the crowd of ghosts gathered around Danny after he defeats the Ghost King.
In "Boxed Up Fury" he is seen he is seen teasing and laughing at the Box Ghost with other ghosts.
In "Phantom Planet" he is seen in the huge group of ghosts attacking Danny after he trapped them in the net to try and get them to help save earth.
Appearance
His head is made up of a giant eyeball. He wears a small hat and an apron, and sometimes has a smoking pipe. He also carries a butcher's knife at times.
Sightings
Season 1
Season 2
Season 3
Gallery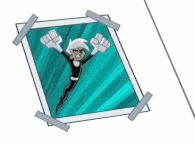 Click here to view the gallery.
Ad blocker interference detected!
Wikia is a free-to-use site that makes money from advertising. We have a modified experience for viewers using ad blockers

Wikia is not accessible if you've made further modifications. Remove the custom ad blocker rule(s) and the page will load as expected.