Quit pushing me, V-man.
This article is a stub. Please help the Danny Phantom Wiki by expanding it.
Fenton or Phantom?
This Page is a candidate to be renamed to Unnamed male student with purple hair. Please discuss about this in at Category talk:Candidates for renaming and an admin will get to renaming it as soon as they can.
The unnamed boy with purple hair is a student at Casper High School.
History
In "Splitting Images," he is one of the students playing football with Danny and Dash.
Appearance
He has dyed purple hair, and purple stud earrings. He wears an olive green jacket with a white undershirt, bluejeans, and black boots.
Sightings
Season 1
Season 2
Season 3
Trivia
He wears glasses that resemble a purple version of Cyclops' glasses, from X-men.
Gallery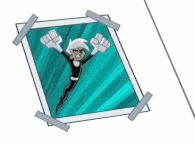 Click here to view the gallery.
Ad blocker interference detected!
Wikia is a free-to-use site that makes money from advertising. We have a modified experience for viewers using ad blockers

Wikia is not accessible if you've made further modifications. Remove the custom ad blocker rule(s) and the page will load as expected.