The Extreme Ghostbreakers are one of the best-known ghost hunter groups. They are a two-member "extreme" team who come to Amity Park during "The Million Dollar Ghost" to try to capture Danny Phantom and claim the million-dollar bounty.
History
Main article: The Million Dollar Ghost
When Vlad places a million-dollar bounty on Danny Phantom, the Extreme Ghostbreakers show up in Amity Park on high-tech ATVs. They try to catch Danny, but Danny ends up catching them and throws them into a dumpster with the other ghost-hunting groups.
Members
Sullivan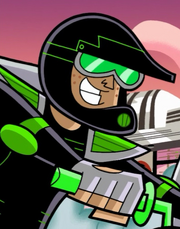 Sullivan is the male member of the Extreme Ghostbreakers. He uses surfer lingo, and often calls Brenner "dude" or "the man," forgetting that she is a girl.
Brenner
Brenner is the female member of the Extreme Ghostbreakers. She has a blonde ponytail and wears braces.
Trivia
The Extreme Ghostbreakers are a parody of the Extreme Ghostbusters, the next generation after the original Ghostbusters.
Ad blocker interference detected!
Wikia is a free-to-use site that makes money from advertising. We have a modified experience for viewers using ad blockers

Wikia is not accessible if you've made further modifications. Remove the custom ad blocker rule(s) and the page will load as expected.