Skulktech 9.9 is the combination of Skulker and Technus from the alternate future seen in "The Ultimate Enemy." He is a minor antagonist sent back in time by Clockwork.
History
The Ultimate Enemy
After Danny accidentally steals the answers to the C.A.T. and is about to look at them, Clockwork sends Skulktech 9.9 to force Danny to change his mind. Skulktech and Danny fight, which ends when Tucker hacks into Skulktech's system (much to both his disappointment and excitement). Skulktech's time medallion falls off and they, Danny, Sam, and Tucker are all sent to Clockwork's lair.
Skulcktech 9.9 is later seen among the ghosts Danny encounters in the Ghost Zone after being banished there by his evil future self. They join the others in taking revenge on Danny until they are blown away by Danny's newly-developed Ghostly Wail.
Phantom Planet
Skulktech 9.9 appears one more time at the end of the series finale, "Phantom Planet," helping Danny and the other ghosts to save the Earth. As the alternate future seen in "The Ultimate Enemy" was averted, they would not exist at this time and their appearance here is most likely a goof.
Relationships
Not much has been shown of their relationship with Dark Danny, though it is clear that they fear and hate him.
Since Danny is the past version of Dan, they see destroying Danny as a means of destroying Dan forever.
Powers and Abilities
Skulktech 9.9 has the combined powers of Skulker and Technus. Among these were shown:
Intangibility: Standard ghost power.
Invisibility: Standard ghost power.
Flight: Standard ghost power. They use their jetpack for propulsion.
Superhuman Durability: They are more durable than Skulker and Technus were alone.
Ghost Ray: They can fire blue ghost rays.
Phantom Palm Pummeler: A special ghost ray designed by Technus to deactivate Danny's powers. It doesn't work on Dark Danny as he's too strong and a full-ghost, but it works on Danny and possibly other half-ghosts.
Weaknesses
Hacking: Like Skulker before, Skulktech can still be hacked. Tucker exploited this weakness to try to force him to be bound by the schedule Tucker set and used against Skulker in "One of a Kind," which Skulktech countered with their "Purpleback Gorilla Override" program.
Sightings
Season 2
Season 3
Gallery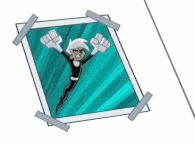 Click here to view the gallery.
Ad blocker interference detected!
Wikia is a free-to-use site that makes money from advertising. We have a modified experience for viewers using ad blockers

Wikia is not accessible if you've made further modifications. Remove the custom ad blocker rule(s) and the page will load as expected.