| | | |
| --- | --- | --- |
| " | Will you be my friend? | " |
Klemper is a minor recurring ghost in Danny Phantom. He is always seen begging for friends. Like the Box Ghost, he usually appears for comic relief.
Appearance
Klemper is large and has icy blue skin and blonde hair. He wears striped pink pajamas. His speech is somewhat slurred.
Personality
Klemper has a deep necessity for friends, but his creepy demeanor hasn't worked in his favor, causing him to remain alone and desperate. When he's angry, he retaliates with ice-based attacks.
History
Before becoming a ghost, Klemper may have been a special-needs child. This made it very hard for him to make friends, and as a result he was always very lonely. As implied by his ice powers, he may have died of hypothermia.
In Danny Phantom
Klemper has appeared as a minor character in several episodes, each time trying to befriend another ghost. He has attempted to make friends with Danny[1], Vlad Plasmius[2], and even the Box Ghost[3], but he has been rejected by each ghost, sometimes violently.
Powers and Abilities
Standard ghost powers: Invisibility, intangibility and flight
Cryokinesis: Klemper can breathe icy cold energy and throw balls of ice.
Superhuman strength: Klemper was strong enough to easily overcome Danny in their first fight.
Sightings
Season 1
Season 2
Season 3
Trivia
Klemper is one of the few ghosts in the series whom is neither a villain nor an ally.
Klemper bears several resemblences to Casper the Friendly Ghost: Both ghosts are of children who want to make friends, and Klemper's ice powers may be a reference to how Casper died of hypothermia. Sam Manson even refers to Klemper as the "Friendly Fiend" in one episode.
Gallery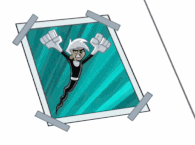 Click here to view the gallery.
References
↑ "Reign Storm"
Ad blocker interference detected!
Wikia is a free-to-use site that makes money from advertising. We have a modified experience for viewers using ad blockers

Wikia is not accessible if you've made further modifications. Remove the custom ad blocker rule(s) and the page will load as expected.