The ghost worm is a resident of the Ghost Zone. It is a minor background character.
History
In "13," it is seen waiting in line to leave through the Fenton Portal that Jack keeps opening with the genetic lock.
In "Life Lessons," it is pictured on Valerie's "Most Wanted" poster in her room.
In "Boxed Up Fury," it is seen with other ghosts laughing at the Box Ghost.
Appearance
The ghost worm is a giant worm with red eyes and either a blue or green body.
Sightings
Season 1
Season 3
Gallery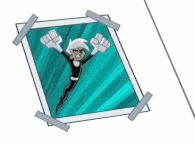 Click here to view the gallery.
Ad blocker interference detected!
Wikia is a free-to-use site that makes money from advertising. We have a modified experience for viewers using ad blockers

Wikia is not accessible if you've made further modifications. Remove the custom ad blocker rule(s) and the page will load as expected.