A ghost portal is a gateway between Earth and the Ghost Zone.
Artificial Ghost Portals
Fenton Ghost Portal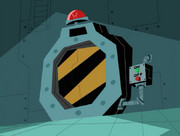 The Fenton Ghost Portal is the most frequently-used portal in the show and is normally kept closed by a barrier across the front. It works perfectly, but its one major flaw is that its "On" switch is located inside the portal. Because of this, Danny accidentally activated the portal while standing inside it, causing the accident that infused his body with ectoplasm and gave him his ghost powers.
This portal was destroyed by Danny during the events of "Phantom Planet."
Other Ghost Portals
Original Prototype: Jack and Maddie Fenton built an experimental version of the Ghost Portal during their college years.[1][2] An accident involving this portal resulted in Vlad Masters gaining ghost powers of his own.
Vlad's Ghost Portal: Vlad Masters has his own Ghost Portal similar to the Fentons'.
Maddie's Ghost Portal: In the alternate timeline shown in "Masters of All Time," Maddie created a ghost portal of her own in Vlad's mansion.
Portal Creator: One of the Fentons' weapons generates temporary ghost portals. This device was stolen by Johnny 13 and mounted to his motorcycle in "Lucky in Love."
Temporary Ghost Portal: Some ghosts, such as Dark Danny, Wulf, and Clockwork, have the power to create ghost portals of their own.
Natural Ghost Portals
There are numerous natural portals between the Ghost Zone and the Earth that lead to various locations and time periods, such as Salem during the witch trials, the Bermuda Triangle, and the rings of Saturn. These portals can be located through the use of the Infi-map.[3]
Trivia
Full-sized man-made ghost portals have ecto-filtrators that need to be changed every six months, or else they will overload and cause an explosion.[4]
The password Danny uses to lock the Fenton Portal in "Livin' Large" is "Open Sesame."
See also
References
Ad blocker interference detected!
Wikia is a free-to-use site that makes money from advertising. We have a modified experience for viewers using ad blockers

Wikia is not accessible if you've made further modifications. Remove the custom ad blocker rule(s) and the page will load as expected.