Quit pushing me, V-man.
This article is a stub. Please help the Danny Phantom Wiki by expanding it.
Fenton Works is a company owned by Jack and Maddie Fenton, located in the Fenton family's house.
The large chamber on the roof is the Emergency Ops Center where ghost operations are carried out. The Emergency Ops Center houses a ghost shield and the Fenton Blimp. The satellite receivers of the Ops Center are able to detect any spectral anomalies within Amity Park.
The Fenton Works Lab, located in the basement, contains the Fentons' ghost portal, which provides Danny and his friends with access to the Ghost Zone.
In "The Million Dollar Ghost," it's revealed that Fenton Works has a weapons vault (with no handle on the inside), which Maddie and Jazz get trapped in. In "Kindred Spirits" there is a pool that opens when the Specter Speeder comes through.
Gallery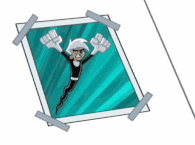 Click here to view the gallery.
See also
Ad blocker interference detected!
Wikia is a free-to-use site that makes money from advertising. We have a modified experience for viewers using ad blockers

Wikia is not accessible if you've made further modifications. Remove the custom ad blocker rule(s) and the page will load as expected.