Quit pushing me, V-man.
This article is a stub. Please help the Danny Phantom Wiki by expanding it.
The Fenton Ghost Peeler "tears ghosts apart atom by atom."
History
Jazz Fenton is the character who uses this equipment the most.
In "My Brother's Keeper," Jazz uses the newly invented Ghost Peeler to weaken Spectra.
In "The Ultimate Enemy," Jazz uses it to reveal Dan's true form.
Sightings
Season 1
Season 2
Season 3
Known Users
Trivia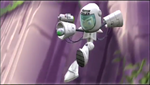 Ad blocker interference detected!
Wikia is a free-to-use site that makes money from advertising. We have a modified experience for viewers using ad blockers

Wikia is not accessible if you've made further modifications. Remove the custom ad blocker rule(s) and the page will load as expected.