Delilah, formerly Sampson, is a rare purple-back gorilla that Danny studies for extra credit.
History
In "One of a Kind," Danny has to do an extra-credit project on purple-back gorillas, and studies one of only two left, Sampson, at the zoo. At the end of the episode, Danny discovers Sampson is actually female, and she begins to be referred to as "Delilah."
Appearance
Delilah is a white gorilla with a large purple marking covering her back.
Sightings
Season 1
Season 2
Gallery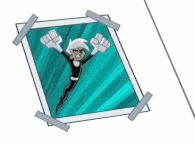 Click here to view the gallery.
Ad blocker interference detected!
Wikia is a free-to-use site that makes money from advertising. We have a modified experience for viewers using ad blockers

Wikia is not accessible if you've made further modifications. Remove the custom ad blocker rule(s) and the page will load as expected.