Announcements

Many of our articles lack images. If you have any good-quality Danny Phantom images which you can legally contribute, please do so!

Please before uploading any picture or doing any edit, make sure you read our rules.

Danny Phantom

Danny Phantom is a popular animated Nickelodeon series created by Butch Hartman. The show is about a 14-year-old boy named Danny Fenton who acquires ghost powers through one of his parent's inventions and who must now fight to protect Amity Park from ghosts of every kind. He is helped by his two best friends, Tucker Foley and Sam Manson. Since his parents' lives revolve around catching and destroying ghosts, Danny must also keep his dual identity secret from his parents and his (usually) genius sister, and from the general population.

Featured Article





Helping out

To write a new article, just enter the title in the box below. When entering page information please review rules and NO SPAMMING PLEASE!


Polls




Which is your favorite character?

 




Featured Article
"The Ultimate Enemy" is the second Danny Phantom TV movie. Danny and his friends get caught up in a time-traveling adventure, where they discover a future in which Amity Park is destroyed, and the world's most powerful and evil ghost is Danny's own future self! (Read more...)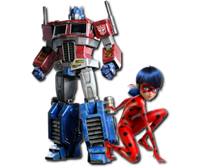 Ad blocker interference detected!
Wikia is a free-to-use site that makes money from advertising. We have a modified experience for viewers using ad blockers

Wikia is not accessible if you've made further modifications. Remove the custom ad blocker rule(s) and the page will load as expected.