Ad blocker interference detected!
Wikia is a free-to-use site that makes money from advertising. We have a modified experience for viewers using ad blockers

Wikia is not accessible if you've made further modifications. Remove the custom ad blocker rule(s) and the page will load as expected.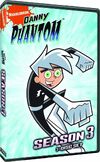 Danny Phantom: Season 3
is a DVD box that contains all episodes from
Season 3
.
Offical summaries
Amazon.com summary
This is the official summary taken from the back of the DVD box:
It's a ghostly good time in Season 3 of Danny Phantom! Featuring all 12 action packed episodes for over five hours of spine-tingling entertainment. Watch as a powerless Danny tries to save the world from an Ectoranuim asteroid...trav​el with Danny and pals through time to stop Vlad Plasmius from taking over Earth...and find out if Jazz, Sam and Maddie can save Amity park from three vile villainesses! It's a 3 disc-set packed with frightfully engaging encounters!
Shout Factory summary
This is the official summary taken from the back of the DVD box:
Episodes
Disc 1
Eye for an Eye
Infinite Realms
Girls' Night Out
Torrent of Terror
Disc 2
Forever Phantom
Urban Jungle
Livin' Large
Boxed Up Fury
Disc 3
Frightmare
Claw of the Wild
D-Stabilized
Phantom Planet
Disc 1
Eye for an Eye
Infinite Realms
Girls' Night Out
Torrent of Terror
Forever Phantom
Urban Jungle
Disc 2
Livin' Large
Boxed Up Fury!
Frightmare
Claw of the Wild
D-Stabilized
Phantom Planet