Damon Gray is Valerie's father and an employee of Axion Labs.
History
He used to be in Axion's R&D division, where he created a "foolproof" security system for the lab. Unfortunately, it wasn't foolproof against ghosts, as they can walk through walls. After a ghost break-in, Damon was demoted to security guard. This caused his daughter Valerie to begin a personal grudge against Danny Phantom, blaming him for all the misfortune she and her father had suffered[1]. Damon was later given back his old job in R&D following Axion's corporate takeover by Vladco.
In "Reign Storm," Valerie's ghost hunter identity was exposed to Damon (by Danny, no less). After making this discovery, Damon tried to forbid his daughter from battling ghosts.
In "The Ultimate Enemy," he is seen in the future Amity Park with an eye patch and a missing left arm. He and Valerie resided in Fenton Works until Dark Danny destroyed it.
Sightings
Season 1
Season 2
Season 3
Gallery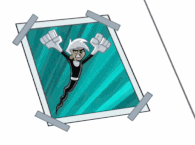 Click here to view the gallery.
Cite error: <ref> tags exist, but no <references/> tag was found
Ad blocker interference detected!
Wikia is a free-to-use site that makes money from advertising. We have a modified experience for viewers using ad blockers

Wikia is not accessible if you've made further modifications. Remove the custom ad blocker rule(s) and the page will load as expected.