Quit pushing me, V-man.
This article is a stub. Please help the Danny Phantom Wiki by expanding it.
The Cybertron Main Computer is the most powerful computer in the world, created by Axion Labs. Its processing unit is floating in space for safety reasons. This computer can be used to control any other computer in the world. It has a ten thousand digit security code.
Processing Unit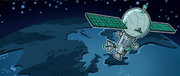 The processing unite of the Cybertron Computer is a satellite, located in the outer space.
Sightings
Season 2
Trivia
The word Cybertron is the name of the homeplanet of the Transformers.
Ad blocker interference detected!
Wikia is a free-to-use site that makes money from advertising. We have a modified experience for viewers using ad blockers

Wikia is not accessible if you've made further modifications. Remove the custom ad blocker rule(s) and the page will load as expected.