Quit pushing me, V-man.
This article is a stub. Please help the Danny Phantom Wiki by expanding it.
Casper High School, often referred to as Casper High, is a school in Amity Park, the only school shown throughout the series. The principal is Principal Ishiyama, and an English teacher who works there is Mr. Lancer, who is also the school's vice-principal and also teaches Math, Science and History. Its students include Danny Fenton, Tucker Foley, Sam Manson, Jazz Fenton, Valerie Gray, Dash Baxter, Paulina Sanchez, Kwan and Star.
The students in the school take their Career Aptitude Test (C.A.T.) here, and often experience many ghost attacks, including a ghost lunch lady who doesn't like the school's lunch menu getting changed, a therapist who depresses kids as opposed to cheering them up, and a mummy that wants to take control of the school.
Staff
Sports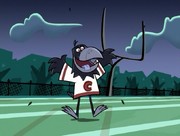 Casper High School has a football team. The school's sports mascot is a raven.
Football Team
School Newspaper
Casper High School has a school newspaper called "Casper Hi-Lites."
Sightings
Season 1
Season 2
Season 3
Trivia